Version française HAPPYKEEPER 

 Deutsch Version
The new bottom-board with polyethylene tubes comes in a variety of formats
[pb_row][pb_column][pb_text]

HAPPYKEEPER tubes bottom board presentation - Jean-Pierre LE PABIC
History of the tubes bottom board
The TUBES BOTTOM BOARD was invented in 1993 by Marcel Legris, a beekeeper from Marseille (south of France). At that time, it was discovered that numerous feral bee colonies survived without any anti-Varroa treatment, and it was believed that the reason was that a certain amount of Varroa mites fell out of the cluster to disappear under the colony in places unvisited by the bees. The tubes bottom board was created to reproduce these conditions.
The Legris design was made with rigid tubes fitted into holes inside the wood on each side. The tubes were expensive and manufacturing was complicated. The lack of profitability quickly caused Mr. Legris to abandon this business. Having bought some of these boards, I personally made careful observations particularly on Varroa mites infestation, strength of the colonies in spring and honey production. My discoveries motivated me to research a more economical design for the board.
This was accomplished in 2002 when I rolled out the new tubes bottom board under the "HAPPYKEEPER" brand name. The tubes were no longer fitted into holes inside the wood but instead held by three struts punched from plastic sheets. It then was possible to use more cost effective polyethylene tubes on which nothing would stick. The tubes are not rigid or perfect, so a strut must be placed in the middle to keep them parallel. After four years, a recent development has compelled me to replace the punched struts with molded struts on the Dadant 10f/Langstroth models. The overall quality of the board is greatly improved.

Avantages of the tubes bottom board
Beekeepers observations:
Many beekeepers no longer treat, in my case since April 1997. On the other hand, beekeepers who have not dared to stop treatments are not encouraged to do so because their infestation rates do not decrease substantially.

In my personal apiary, infestation rates are around 2 to 3% in spring after a few years without any treatment.
Some beekeepers have reported observing a significant rise in Varroa mite falls immediately after exchanging a mesh board for a tubes board in autumn. The figure of 20 mites per hour was even reported on an extremely infested colony.
Early development of colonies in spring equips bees to produce honey one month sooner in some locations.
The tubes board is clean in spring and does not need to be cleaned every year. If this is not the case, the colony is generally queenless.
Colonies have well withstood extremely low temperatures (-15 °C) in the French mountains for weeks.
First experiment from January to October 2005


Place: Toulouse (southwest of France; 100 km from the Pyrenees).
Number of colonies: ten on tubes boards and ten on mesh boards.
Bees: Buckfast
Last anti-Varroa treatment: August 2004
Brood surface in May: +25% with tubes boards
Mean honey harvest in spring : no honey flow
Varroa mite falls: +30% with tubes boards
Infestation rates in Sept. 2005:
Tubes boards: from 1.1% to 8%, 5.5% on average
Mesh boards: from 5.4% to 20.1%, 8.9% on average

Second experiment from January 2006 to June 2007


Place: Vesoul (east of France, less than 100 km from Switzerland)
Number of colonies: ten on tubes boards and ten on mesh boards.
Bees: black bees
Last anti-Varroa treatment: APIVAR from September to December 2005
Brood surface in April: +93% with tubes boards
Mean honey harvest in spring: 29 kg with tubes boards; 14 kg with mesh boards.
Varroa mite falls: equal between January and August;
3 times higher on tubes boards from September till January.
Nearly 5 times higher after replacing a mesh board with a tubes board.
Less than half after replacing of a tubes board with a mesh board.
Infestation rates in Aug. 2006: tubes boards : from 1.51% to 6,54%, 4.42% on average
Mesh boards : from 1.69% to 11.62%, 6.13% on average.

Analysis
In the beginning, the tubes bottom board was designed to simulate the conditions found in feral colonies surviving without any anti-Varroa treatment in highly infested environments.
The empirical knowledge led to my conclusion that the reason for its efficiency was not that Varroa mites were not recycled through contact with bees as is apparently the case in traditional hives:
A study carried out in the southeast of France showed that mesh boards were not better than full boards to combat Varroa mites, as would be the case if the initial hypothesis was correct.
Several beekeepers have seen that Varroa mite falls dramatically increase quickly when they replaced a mesh board with a tubes board in autumn.
Development of colonies in spring is stronger.
Varroa mite falls considerably increase after September.
The first point would show that the initial hypothesis was not correct. The second point would show that something changed very quickly inside the hive after replacement of the boards. The only thing that changes that rapidly is ventilation inside the hive. To control the atmosphere inside a room, the opening must not be too small (like a full board) otherwise it is impossible to renew the air effectively. The opening must not be too large either (like a mesh bottom board), otherwise it is not possible to control the volume of external air entering the hive. The openings in a tubes bottom board are the optimum size and are strategically situated to enable ventilating bees to create the atmosphere perfectly suited for them. Which keeps bees strong enough to combat Varroa mites and more inclined to raise brood in spring.

Questions
Why do feral colonies remain healthy in highly infested environments ?
The reason could be: when a swarm begins occupying a hole in a tree, bees would build the combs conforming to the existing openings, in order to be able to control the atmosphere around brood. It is easy to imagine that the tubes board works in much the same way.
Why do Varroa mite falls increase after September ?
Several reasons could be considered: diminution of brood; lower temperature, especially at night; birth of first wintering bees.
Why do treated colonies not have low infestation rates ?
Most chemicals used to combat Varroa mites are also poisonous to bees but the dose is sub-lethal for them. When infestation rates are high, the Mid Atlantic Apiculture Research and Extension Consortium advises against using products such as fluvalinate, coumaphos or amitraze and even oxalic acid as a preventative against Colony Collapse Disorder. They could therefore also weaken the bees and make them unable to effectively combat Varroa mites, even when using tubes boards.
Further studies are needed to answer all these questions.
The HAPPYKEEPER bottom board takes the place of your usual hive floor

| | | |
| --- | --- | --- |
| It consists of a wooden frame, | several tubes and three struts, | the tubes are held together by the struts. |
The gaps between the tubes are 3.5 mm;
bees cannot pass through them.

The illustrated hive is fitted with alternate frames only,
enabling us to see how each tube is located
exactly underneath a brood frame.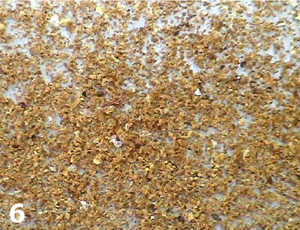 Hive waste as well as Varroa mites fall through the funnels
haped openings and can be examined under the hive.
The hive should be set about 20 cm
bove the ground.

he gaps between the tubes provide for an
efficient circulation of air within the hive.
The bees can expel used air and replace it with fresh air through their fitted floor. The interior atmosphere is thus made optimal for the health and growth of the colony in every season of the year. In the French Mountains, colonies have easily withstood long periods of cold below -10 C.
Some beekeepers have noticed a considerable increase in Varroa mite drop immediately after replacement of an open mesh bottom board with a Happykeeper bottom board. The strictly controlled atmosphere around the cluster makes the bees stronger, healthier, more productive and so better able to get rid of varroa mites. If an infestation rate of 5% or less is found in the Spring, no treatment whatever is needed.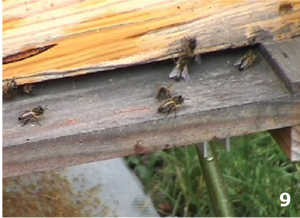 t a height of about 8 mm, the entrance needs no further widening in Spring.
Robbing is thus practically eliminated in Summer.
A bottom board that is permanently clean, keeping bees fully healthy, and requiring little or no anti-varroa treatment, with low risk of robbing: all these advantages give clear evidence that the HAPPYKEEPER bottom board is "the board we install and forget".
---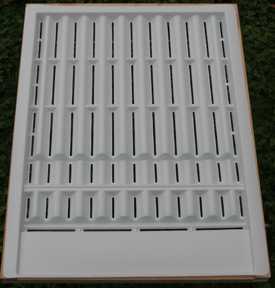 The bottom plastic sheet "SIMILITUBES"

The bottom plastic sheet SIMILITUBES mainly reproduces the shape and the openings of the tubes bottom board. In addition, it allows to make a new Happykeeper pollen trap which is much simpler and cheaper than the previous model (see below).
The bottom plastic sheet SIMILITUBES is very easy to set up: just take an old bottom board, remove the centre part to keep only the frame, then lay the plastic sheet down on it
---
HAPPYKEEPER pollen trap accommodates
the harvesting of pristine pollen.

Hive waste is eliminated through the
openings and cannot mix with the pollen
in the basket. Bigger waste like dead bees
is evacuated through the drones holes.

The pollen basket is easily locked with the hole in the angle
bracket. Notice the small cylinder to operate the pollen comb.

The 8 mm high opening prevents mice and
other small animals from entering.


This picture without the small wooden panel above
shows the uncomplicated design of the trap.
Maintenance is then particularly easy.
The pollen comb can be operated from outside to become horizontal
and allow free pasage to the bees and vice-versa.

he pollen trap seen from below: on the right, shows the groove
to eliminate rain water which prevents loss of the pollen harvest.
Angle brackets make very easy hanging and removal of the basket.
Openings allow for the passage of even the bigger pollen pellets.
This propolis harvesting concept is available as top board as well as side brood frame. Their formats can be simply adapted to any kind of beehive.
Polyethylene tubes are held in position at a distance of 1 to 2 mm from each other by stainless rings. In that way, they form a sheet perforated by gaps that bees fill with propolis. One of the dimensions of this sheet is obtained by using a proper number of tubes. The other one is limited to the length of the tubes that is to say around 470 mm which is convenient for the larger dimension of the Dadant hives.
Let us remind that polyethylene is the food grade quality plastic par excellence. It is frequently used as polypropylene, a close plastic of the same family, in pharmaceutical industry (flasks, syringes). Most chemical agents such as alcohol or bleach have no effect on it. It does not generate any poisonous substance when eliminated, containing only carbon and hydrogen. At last nothing sticks on polyethylene, not even propolis!
Not to increase prices unnecessarily, the different models are delivered as kits, rings in a separate bag. The user first joins tubes two by two, each time with a ring situated roughly in the middle. Pairs are then joined together with another ring also situated in the middle. At this stage, all tubes are joined. The same operation has to be repeated on each side. This simple work can be done by a child!
The first manufactured model suits to Langstroth and Dadant 10f hives. It contains 26 tubes and 75 rings. The second one suits to Dadant 12f hives and contains 31 tubes and 90 rings. Other models could be manufactured according to the demand.
| | | |
| --- | --- | --- |
| Mounting the tubes | Dadant propolis  frame | Propolis top board for Dadant 10 frames |
As for side brood frames which, according to specialists, produce a propolis containing less wax, only tubes and rings are provided. After having cut the tubes at length and joined them as indicated above, the user takes a frame from his stock to hold the obtained sheet. Several techniques may be used. It is possible to drill a hole on top and bottom on each side to insert the first and the last tubes, which are left longer. It is also possible to use the same wire as to fix foundations to fasten the sheet. In short, there are a lot of possibilities.
The side brood frame is put in place at the beginning of the season and taken out at the end. The top board is more versatile to use. In fact, filling in can be observed. As soon as the gaps are filled, propolis can be removed more or less carefully and the board is put back in place. Thus several harvests a season can be realised.
No cooling in the fridge is needed. Of course, the temperature must not be too high but at 20 °C, it is enough to drive a knife blade or any thin object between the tubes to have propolis come off easily. To harvest carefully, you must remove the sheet and scrape off the frame. A Dadant 12f top board gives about 40g propolis at a time.
Download : Trial Report on the Happykeeper Bottom Board January 2006 to June 2007 (

 PDF file 397 Mb)
Toulouse-Auzeville 2005 trial report  (

 PDF file 1,228 Mb)
See also the articles in:
The Beekeeper's quarterly - November 2003
Bee Culture Magazine - December 2005
PRICES FROM HAPPYKEEPER FRANCE
Bottom plastic sheet SIMILITUBES : 3 € including VAT per unit
Bottom boards (from now on fully made of polyethylene)
◦ National Bee Hive : mounted : 31 € including VAT per unit; kit : 22 € including VAT per unit;
◦ Dadant 5 frames kit : 18.50 € including VAT per unit;
◦ Dadant 6 frames kit : 19 € including VAT per unit;
◦ Warré : mounted : 27 € including VAT per unit; kit : 20 € including VAT per unit;
◦ Langstroth/Dadant 10 frames : mounted : 28 € including VAT per unit; kit : 21 € including VAT per unit;
◦ Voirnot/Lusitania : mounted : 28 € including VAT per unit; kit : 21 € including VAT per unit;
◦ Dadant 12 frames : mounted : 31 € including VAT per unit; kit : 22 € including VAT per unit;
◦ Pollen trap no more available
◦ Other prices on request
Propolis harvesting
◦ Propolis kit for side body frame (18 tubes + 3 struts) : 9 € including VAT per unit;
◦ Special frame to put the former kit on the top of the hive (Dadant 10 or 12f) : 6 €.
Reductions according to quantities per item : 10+ : -5%; 20+ : -10%; 50+ : -15%; 200+ : -20%
Tubes, struts and frames available separately.
Packaging and shipping not included.
Happykeeper brochure and assembly instructions in pdf format on request by e-mail.
Ask for a shipping quotation. Payment by bank transfer free of charges before shipment.
Available from

HAPPYKEEPER
20, avenue des Acacias
F-92500 Ruel-Malmaison - France
Tel.: +33 (0)1 47 14 10 52
Email: This email address is being protected from spambots. You need JavaScript enabled to view it.
Internet: www.apiculture.com/happykeeper/