It's funny how honey makes you snooozy (2002)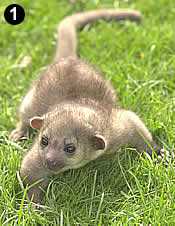 On the prowl for a tasty morsel is this cute baby kinkajou who surprised staff at a Shropshire border wildlife centre when she unexpectedly arrived in the world.
As she crawls through the grass, she is just finding her feet after being born at Gentleshaw Wildlife Centre in Eccleshall, where staff named her Rio.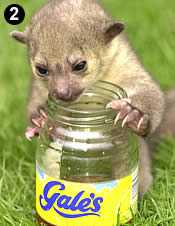 Rio clings on to the top of a pot of honey and takes a look inside as it is one of her favourite treats.
It's this love of honey which has earned the animals their other, name of the honeybear.
Rio is the first baby for the centre's two kinkajous Yogi, 12, and Susie, nine.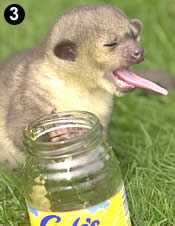 But the honey does not seem to impress Rio, who finds things a bit too much, and takes a big yawn.
To many people, the gentle but playful creatures look like a cross between a bear cub in the face, an otter in the body and a monkey with its long tail, along with the curiosity of a raccoon.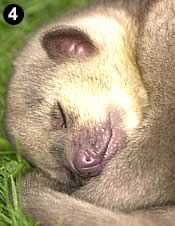 This photo session, by Star photographer David Bailey, proves too taxing for the new arrival, who shuts her eyes, snuggles down and goes to sleep.

More used to venturing out at night in the wild, kinkajous sleep in tree hollows or in shaded tangles of leaves and seldom go down to the jungle floor.