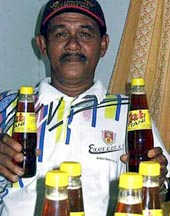 Zazali Musa
The pure honey Ahmad collects and sells come in two sizes.
The less temperamental Australian bees work hard to sustain Ahmad's business. Others might have qualms about interacting with bees but not Ahmad Mustafa who has been living with them for the past 20 years.
First-time visitors might think twice or even thrice before passing the compound of his house in Kampung Perpat Timbul, Mukim Serkat, Johor, if they knew that the 70 boxes scattered around are filled with bees.
Ahmad, 58, is the sole bee farmer in the village and his secluded house is located near Tanjung Piai, which is the southernmost tip of mainland Asia.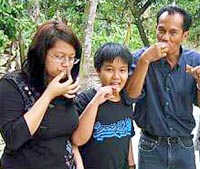 Ahmad decided to go into bee framings as he found it to be "interesting".
He enrolled in a bee-farming course conducted by Risda with the ain of diversifying his income as a rubber smallholder and fisherman.
"Initially, I reared local bees but I switched to Australian bees eight years ago," Ahmad said in an interview recently.
In 1997, Ahmad went to Melbourne to attend another course on bee farming at an agricultural institute for three months.
He found it easier dealing with Australian bees.
Ahmad said the foreign species (apis mellifera) was "tame and gentle", while local ones were "fierce and wild' despite being reared in farms.
He said it was much easier to collect the honey from the Australian bees' colonies unlike the local bees which were more territorial.
Visitors tasting the sweetness of freshly sliced honeycombs (left). Ahmad said he had to wear protective gear or smoke the local bees off if he wanted to collect their honey but did not have to do so with the Australian ones.
He said since his farm receives visitors regularly, it was safer to rear the Australian bees as they would not be agitated by human presence.
Ahmad said the Australian bees "listen" to him and knew that he was their master unlike the local bees which showed little respect for him.
Visitors to the farm would be treated to freshly sliced honeycombs from the boxes with the bees joining in to taste the honey.
"Australian bees are more productive compared to their local counterparts; this has to do with each colony gaving a large number of worker bees."
Ahmad said some 700 to 1, 000 Australian worker bees are to be found per frame in a box measuring 60cm by 45cm. The boxes for the local species only house between 200 and 700 worker bees per frame.
One box contains five frames for bees to build their honeycombs and each box contains between 20,000 and 25,000 bees with one queen bee in each colony.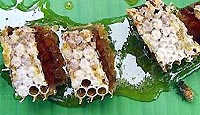 Ahmad buys about 20 Australian queen bees at RM100 each and the bees are individually placed in a special casing during their flight from Down Under.
Ahmad said a queen bee could live between 12 and 18 months from its first mating day, adding that the bee would be mating with some 500 to 1,000 male bees during that period.
"Each box can produce about 1.5kg up to 2kg of honey between 40 and 45 days or even faster depending on the supply of nectar," he said.
The bees find their source of food from the surrounding areas which is filled with durian, mango, rambutan, banana trees and pineapple and flowering plants.
Ahmad said the taste of the honey depends on the fruit nectar gathered by the bees with durian having the top taste followed by coconut and pineapple.
He said the bees usually fly up to 1.5km in search of food.
Ahmad processes and bottles his own honey in his backyard with the help of some basic honey extraction devices.
A small bottle of pure honey costs RM15 while a big bottle is priced at RM20.
Zazali Musa