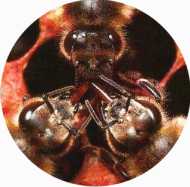 Apiculture, a major foreign exchange earner (2002)
K. Sarangarajan
The tribune of India - 01/03/00
The Honey industry in a country can well become a major foreign exchange earner if international standards are met. Beekeeping is an age-old tradition in India but it is considered a no-investment profit giving venture in most areas. Of late it has been recognised that it has the potential to develop as a prime agri-horticultural and forest-based industry. Honey production is a lucrative business and it generates employment. Kanyakumari district in Tamil Nadu is a pioneer in honey production and the beekeepers depend solely on the flow season for improving their economic condition.
Among the southern states, Tamil Nadu ranks first in honey production followed by Kerala and Karnataka. Kanyakumari district has record numbers of beekeepers (over 3,000) and bee-colonies (accounting for two lakh). Natural vegetation, agro-horticulture crops available, tropical flora found in abundance and the proximity of the district to the western Ghats make beekeeping a viable trade in Kanyakumari. Apis cerana, a domesticated bee species, found in south India is the most preferred as it produces 8 kg to 10 kg of honey on an average. Since honey production is the life-line for numerous families, drastic decline in the number of bee colonies ruined the prospects of beekeepers and many of them have been rendered jobless. The government introduced measures to revive the trade. An intensive survey showed that 40 per cent of bee colonies were affected with disease and death of bees varied from 5 per cent to 20 per cent. As hot weather is favourable for honey production, a good flow is expected during summer. The beekeepers are trained to give artificial feeding by administering sugar syrup to the bees during the lean season at least once a week. The yield per box would be 15 kg to 20kg.
Sources at the beekeepers co-operative society claim that a beekeeper who invests Rs 1 lakh for raising colonies (each colony consists of 10,000 to 25,000 worker bees, a queen bee and a few drones) and towards the cost of providing artificial feeding, can realise the entire amount, in addition to profit, within a year. The society has registered moderate sales ranging from Rs 60 lakh to Rs 65 lakh in the past three years. The society finds marketing a Herculean task and has pitched its hopes on the government. A lot depends on the government's move as about 10,000 persons are either directly or indirectly involved in the industry. The government has to set up a research institute to find a cure for the virus that may hit the bee colonies. Apart from beekeeping and marketing, money could be promoted under a self-employment scheme among rural youth in a big way to improve the rural economy, especially when national resources are available in Kanyakumari district.
Honey is also a sweet base for a number of medicines and bee venom is used in many pharmaceutical applications, especially to cure rheumatic diseases. It is a natural dehydrant and excellent for those on slimming diets. As a proven anti-ageing agent and natural rejuvenator honey has no equal.
In India, production of honey is very low compared to China - the highest producer - which exports 80,000 tonnes annually compared to India's 7,000 tonnes. Its consumption is also very low in India. Honey production in the country is only about 27,000 tonnes a year. Only about 20 per cent to 25 per cent of the bees is being exploited at present. Punjab, Haryana, Uttar Pradesh, Bihar and West Bengal are the major honey producting sates. Germany is the world's largest consumer, importing 90,000 tonnes of honey products annually. The per capita consumption of honey in Germany is 1,5 kg compared to a dismal 3 g in India. According to a survey, there is a Rs 1,500 world market for health foods and India's share is stated to be negligible. In the world market the demand for honey is around one million tonnes. There is an immense possibility for India to increase its export share from 7,000 tonnes to three lakh tonnes if more people invest in bee colonies.
The present trend in the beekeeping industry gives for raising the number of colonies to around four million and, thereby, increasing honey production to one lakh tonnes in another decade. A major portion of the honey produced in the country is used in medicines and only a small quantity finds its place on the table as food. Bee stings have been used as a medicine for many decades in Europe and Russia, especially in the treatment of muscular diseases. Bee wax is a high value product and its consumers are cosmetics, candles and paint industries. Quality testing facilities are also not easily available to beekeepers and packers in India.
The European Union will not import honey from countries where the use of pesticides is not regulated and where samples are not specifically tested for insecticidal residues. Some honey importing countries also insist on a certificate to the effect that the honey has been procured from disease-free colonies. However, there is no arrangement for disease surveillance. Honey is often stored in undesirable and inappropriate containers which deteriorate the quality.
Above all, the processing of honey has to be of high standards so that quality deterioration is minimal. Imports from China and Argentina, the two large exporters, are now being avoided due to the poor quality of honey and many countries are turning towards new exporters like India. Europe, the USA and Japan are the major honey importers. India needs to build the confidence of world buyers. Price, supply, purity and service are the major determinants in the honey industry. The sale price of honey by beekeepers in India varies from Rs 25 to Rs 45 per kg whereas in countries like the USA, Argentina and Brazil, the price varies from Rs 55 to Rs 80 a kg. The beekeepers are thus getting a lesser price for their produce in India as compared to other countries.
K. Sarangarajan