A beekeeping treat (2003)
Dr Nicola Bradbear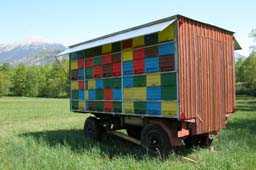 Many beekeepers keep their bees in bee houses like this one belonging to Alec Gregorc. The bee house provides a very convenient way to work with bees, and the trailer is easily moved as different forage comes into flower.
If you can, do take part in the APIMONDIA Congress being held in Slovenia next month (August 24-29). It is going to be a very special treat for beekeepers.
For four years, the Slovenian Organising Committee has been planning this International Apicultural Congress and this is what they have in store:
Around 250 talks and presentations on all aspects of bees and beekeeping - every topic is included from Apitherapy, Biology, Economy, Pathology, Pollination, and Technology to my own field of Beekeeping for Rural Development
A

fantastic

Apiexpo trade exhibition: already all spaces are sold out
Cultural and social events
ethnical tours - this will be one of the highlights, with Slovenia's beekeeping associations looking forward to welcoming Congress participants.
Slovenia
Slovenia is a beautiful, forested and mountainous country, one of the smallest in Europe (about the same size as Wales), with only two million people. Slovenia neighbours Italy, Austria, Hungary and Croatia, and will join the EU next May. Hotels, restaurants and infrastructure are top class. Travel is smooth and modern, and motorways empty by comparison with the UK. So far, Slovenia has been ignored by mass tourism, although this situation may change quickly.
Bees and beekeepers
There are around 8,000 Slovenian beekeepers, with 160,000 colonies. Slovenia is lucky to have retained its productive and gentle indigenous Carniolan bee, Apis mellifera carnica. The country has abundant natural resources available for bees, and remains well forested - approximately 60% is forest covered, and the spruce and fir trees provide late-summer harvests of the much-prized honeydew honey. Beekeeping is a popular, familiar and important part of Slovenia life, and indeed this is reflected in the Congress theme: Beekeeping, a way of life.
Beekeepers' Centre
The first Slovenian BKA was formed 222 years ago! Just in time for the Congress, a marvellous new Centre has been completed (see pic XXXX), containing lecture and meeting rooms, offices, a restaurant and equipment shop.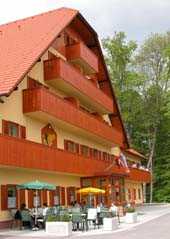 Slovenia Beekeepers' new centre
Ljubljana
Slovenian beekeepers are rightly proud of their beekeeping heritage, and at the new Centre, a waterfall commemorates some of the famous names in Slovenian beekeeping. Amongst these is Anton Jasna, the first beekeeping teacher in the Austrian Empire (of which Slovenia has been part), who died in Vienna 230 years ago. A visit to the new Centre will be organised every day of the Congress at 5pm. The visit will include a tasting of Slovene delicacies and wines.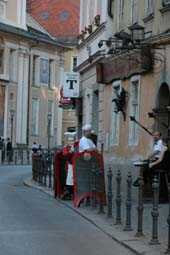 Ljubljana enjoys a burgeoning café society
The Congress will take place in Ljubljana, the capital of Slovenia since this westernmost part of the former Yugoslavia declared its independence in June 1991. This small city (population 330,000) consists of an old town dominated by the castle, and the more modern centre. The two parts are separated by the Ljubljanica River, flowing through the centre and criss-crossed by many bridges. It is pleasant to walk around this leafy city: cobbled streets, baroque architecture, churches, squares, parks and monuments to Slovenia's famous names. The main market place - with daily markets from 7am - is next to the twin-towered St Nicholas Cathedral. Ljubljana prides itself on being a centre for culture, and from June to September hosts a summer festival with many musical and artistic performances. The Congress will therefore coincide with cultural activities taking place throughout the old city centre during the last days of August. Watch out too for some Irish culture (Riverdance goes beekeeping): as Ireland promotes their turn to host the Apimondia Congress in 2005.
Congress venue
The Congress will take place in Slovenia's largest cultural and conference venue, Cankarjev dom, in the centre of Ljubljana and easy walking distance of the city's shops, markets, hotels and restaurants.
Getting there
You can reach Slovenia easily from the UK. Some adventurers will choose to go by road (about 930 miles from London). Alternatively fly direct to Ljubljana from Gatwick on ADRIA (offering 20% discount) or on low-cost airlines (Ryanair, Go, Easy Jet ...) to Venice or Trieste in Italy, or Klagenfurt or Graz in Austria. Train and bus services connect to Ljubljana.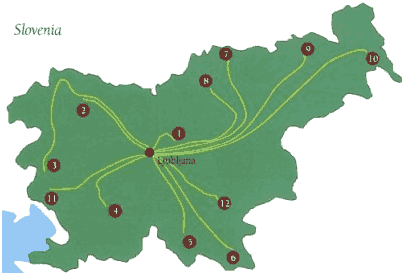 Map of technical tours
Food and accommodation
A range of hotels. Hotel Slon (slon means elephant and commemorate one of Hannibal's resting places), like many other hotels in Ljubljana is four star, recently renovated, and of excellent standard. The Grand Hotel Union is one of the best, built in Art Nouveau style at the start of the 20th century, it has been beautifully restored, and successfully creates fin de siècle Viennese ambience. At the other end of the budgetary scale the 200-bed Youth Hostel (near the Railway station) has just finished full renovation. Ljubljana is full of cafés, bars and restaurants, offering every type of local and international cuisine: visitors appreciate the quality and value. There are many excellent, local wines, so far little known outside Slovenia - watch out for the beekeeping technical tours that also feature visits to vineyards.
The Congress Programme
The Congress will begin with the Opening Ceremony, Apiexpo Opening, and Reception (these are traditions of Apimondia), on the evening of Sunday 24 August. Monday to Thursday, the 'serious work' of the Congress takes place - four days of lectures and symposia, meetings, receptions, cultural evening, film and slide shows: too much to detail here. On Friday, all participants have the choice to participate in one of 12 different technical tours, visiting bees and beekeepers throughout Slovenia.
Who will be there?
Around 220 UK beekeepers and scientists have registered already. UK exhibitors include Thorne's, Vita Europe Ltd and Sapimiel. Bees for Development will be there in full force, of course. We are expecting beekeepers from every part of the world, and in addition to English, Congress translation languages will include French, German, Russian and Spanish.
Never attended Apimondia before?
Then you have missed a great chance to make new beekeeping friends - there is no other 'bee' event quite like an Apimondia Congress. Many people endeavour to attend every Congress and enjoy meeting their friends over many years at the different international venues. In past years, every second Congress was held in countries of the former Soviet Union, and gave a rare chance to meet people from these countries that were otherwise closed to westerners. Still today, the Apimondia Congress is unique for the very wide range of nationalities present.
Want to attend for one day only?
It is possible to join the Congress just for one or two days: special passes will be available
Want to visit only Apiexpo?
From 25-28 August it will be possible (for a fee of 50 Euro), to visit only the exhibition (no Congress materials, and no possibility to take part in the lectures, symposia, social, cultural or other events). It has been decided to extend the opening time of the Apiexpo exhibition to Friday, 29 August from 8 am until 2 pm. On this final day, it will be possible to attend Apiexpo for 20 Euro.
And for non-beekeepers?
There will be a free, three-hour tour of Ljubljana for accompanying persons on Monday, 25 August.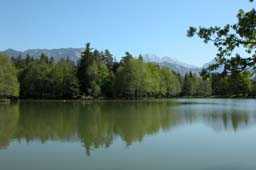 Slovenia: the classic tranquillity of
forests, lakes and mountains
There are many other optional tours (for an additional fee) including choices of:
Bled, Slovenia's most popular lakeside resort in the Julian Alps. The stuff of picture postcards, with hillside castle, church on the island, emerald lake etc.
Postojna caves - one of the world's most easily accessible network of caves, two million years old and 27 km long! The home of salamanders.
Piran, on the Slovenian coast with its narrow streets and Venetian architecture. From this lovely medieval town, the entire Slovenian coast is visible. Swimming clothes recommended!
The Karst region, including the home of the Lipica horses - visit the stables and see a performance of the Spanish riding school.
Win a medal
If you cannot attend the Congress, why not enter one of the contests? This costs only €30 (£22) and you have the chance to win a prestigious Apimondia medal. There are classes for Beekeeping inventions, Books, Magazines, Pictures, Web sites and many other categories, all visible on the Congress web site. You need to hurry: entries must be received by August 1st.

It will indeed be a great treat for beekeepers, and I look forward to meeting you there! See www.apimondia2003.com for more details.
Dr Nicola Bradbear
President, APIMONDIA Standing Commission for Beekeeping for Rural Development
All pics © Nicola Bradbear