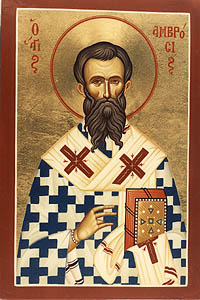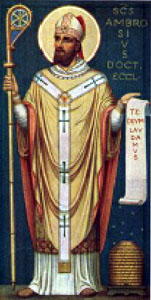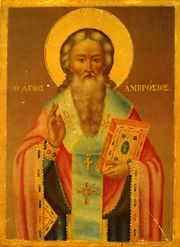 Saint Ambrose of Milan
Also known as - The Honey Tongued Doctor; Ambrogio Memorial 7 December
Profile - Roman nobility
Brother of Saint Marcellina and Saint Satyrus. Educated in the classics, Greek, and philosophy in Rome. Poet and noted orator. Convert. Governor of Milan. When the bishop of Milan died, a dispute over his replacement was leading to violence. Ambrose intervened to calm to sides; he impressed everyone involved so much that, at age 34 and while still a catechuman, he was appointed to the see.
He resisted, claiming that he was not worthy, but after it was prophesied by a small child who heard him speak, and to prevent any uprising over the problem, he assented, ordained on 7 December 374. He immediately gave away his wealth to the Church and the poor for good it did, and as an example. Preacher, teacher, bible student of renown, and writer of liturgical hymns. He stood firm against pagans and Arians.
His preaching converted Saint Augustine of Hippo, whom Ambrose baptized and brought into the Church. Ambrose's preaching brought Emperor Theodosius to do public penance for his sins. He called and chaired several theological councils during his time as bishop, many devoted to fighting heresy.
He was proclaimed a great Doctor of the Latin Church by Pope Boniface VIII in 1298. The title "Honey Tongued Doctor," initially bestowed because of his speaking and preaching ability, led to the use of a beehive and bees in his iconography, symbols which also indicate wisdom. This led to his association with bees, beekeepers, chandlers, wax refiners, etc. "No one heals himself by wounding another."
Saint Ambrose Born c.340 in Trier, southern Gaul (modern Germany) - Died 4 April 397 (Holy Saturday) in Milan; relics in the Basilica of Milan.
Name Meaning
Divine, immortal,
Patronage
Beekeepers, bees, candlemakers, chandlers, domestic animals, French Commissariat
Studies
Milan Italy, schoolchildren, students, wax melters, wax refiners.
Representation
Beehive; bees; dove; ox; pen; scourge; man in bishop's robes; man arguing with a pagan; with Saints Gregory, Jerome and Augustine; bishop holding a church in his hand.
Additional Information - Project links to sites devoted to or with information about Saint Ambrose Prayers
Prayer - that We May Seek God and Find Him - Prayer before Holy Communion
Writings - Open Directory - Online versions of writings by Saint Ambrose
Readings
Our own evil inclinations are far more dangerous than any external enemies.
Saint Ambrose
But if these beings angels guard you, they do so because they have been summoned by your prayers.
Saint Ambrose
he Church of the Lord is built upon the rock of the apostles among so many dangers in the world; it therefore remains unmoved. The Church's foundation is unshakable and firm against assaults of the raging sea. Waves lash at the Church but do not shatter it. Although the elements of this world constantly beat upon the Church with crashing sounds, the Church possesses the safest harbor of salvation for all in distress.
There is a stream which flows down on God's saints like a torrent. There is also a rushing river giving joy to the heart that is at peace and makes for peace. He who read much and understands much, receives his fill. he who is full, refreshes others. So Scripture says: "If the clouds are full, they will pour rain upon the earth." Therefore, let your words be rivers, clean and limpid, so that you may charm the ears of people. And by the grace of your words win them over to follow your leadership. Solomon says: "The weapons of the understanding are the lips of the wise"; and in another place he says: "Let your lips be bound with wisdom." That is, let the meaning of your words shine forth, let understanding blaze out. Let no word escape your lips in vain or be uttered without depth of meaning.
From a letter by Saint Ambrose
To avoid dissensions we should be ever on our guard, more especially with those who drive us to argue with them, with those who vex and irritate us, and who say things likely to excite us to anger. When we find ourselves in company with quarrelsome, eccentric individuals, people who openly and unblushingly say the most shocking things, difficult to put up with, we should take refuge in silence, and the wisest plan is not to reply to people whose behavior is so preposterous.
Those who insult us and treat us contumeliously are anxious for a spiteful and sarcastic reply: the silence we then affect disheartens them, and they cannot avoid showing their vexation; they do all they can to provoke us and to elicit a reply, but the best way to baffle them is to say nothing, refuse to argue with them, and to leave them to chew the cud of their hasty anger. This method of bringing down their pride disarms them, and shows them plainly that we slight and despise them. Saint Ambrose, Offices, Chapter 5